BRCA1 and 2 "breast cancer genes" are highly misrepresented by the medical media and thus misunderstood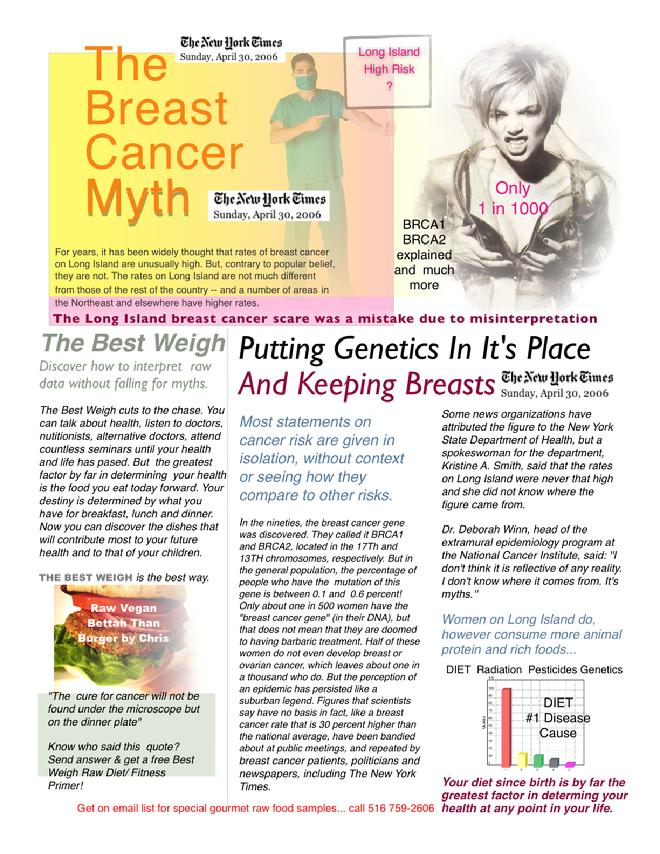 99.9% of all "agressive" cancers are reversible w diet alone.
MEDICAL DISCLAIMER


Check with your doctor before you change your diet or lifestyle. While Chris and his clients have gotten phenomenal results from eliminating cold symptoms to reversing chronic disease and toxicity, these were their personal experiences that he is sharing with others as an alternative to the mainstream standards and practices. Before you embark on this or any other diet, health, wellness or fitness program, realize that your situation may require the supervision of a qualified physician. It is up to you to make the best decisions for you based on your own experience, desires and expectations. To see what others are saying, click TESTIMONIALS.

THE BEST WEIGH Center For Ultimate Health (Long Island's First Genuine Food & Fitness Health Plan)
The First Supper Raw Classes, Raw Food Wellness Coaching, Super Fitness and much more. Established 1978. 108 Forest Avenue, Glen Cove Long Island NY (516) 759-2606
Web Hosting powered by Network Solutions®